A good idea deserves
good money.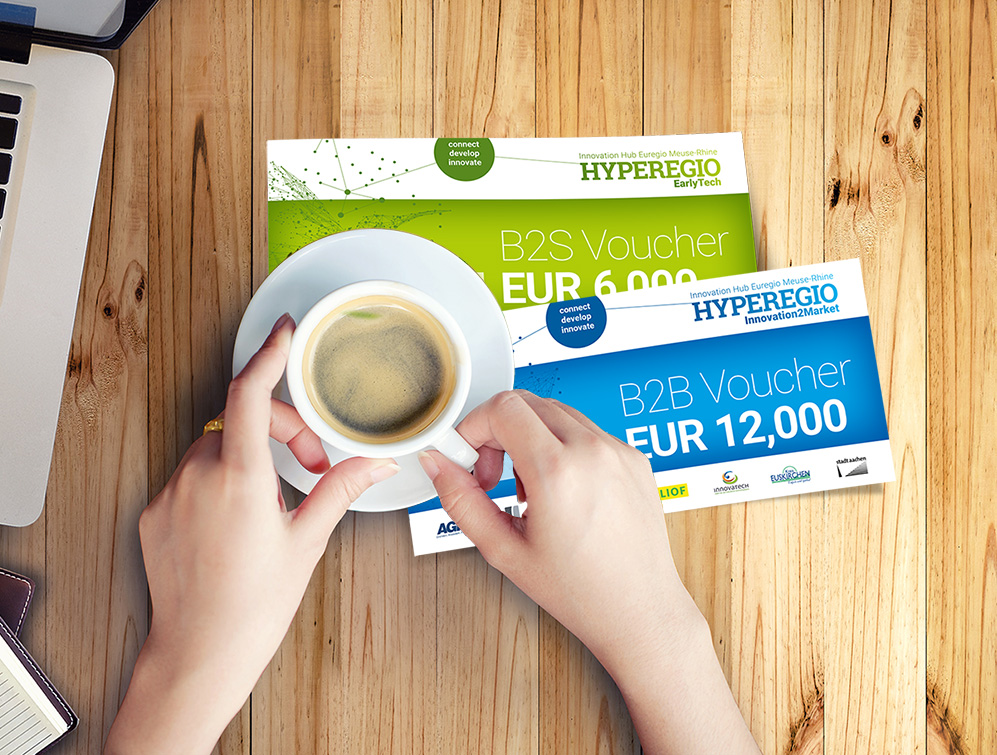 Some questions are always being postponed. Sometimes you just don't see a potential partner, the perfect match, despite him being so close.
Don't hesitate! Use the services of HYPEREGIO now, to benefit with your company and with your projects!
Your local contacts, our HYPEREGIO technology transfer and BDS managers, will happily support you free of cost as your personal advisors.
YOUR B2S VOUCHER
The HYPEREGIO "B2S Voucher" offers the unique opportunity to examine and to analyse the initial basis of your innovative ideas for projects, services or products together with an experienced partner: A knowledge provider from a neighbouring region within the Euregio Meuse-Rhine. With the B2S Voucher you can cover the cost of this initial study up to € 6,000.
YOUR B2B VOUCHER
The HYPEREGIO "B2B Voucher" aims at promoting cross-border cooperation between at least two SMEs from the Euregio Meuse-Rhine. Innovative companies can benefit from a voucher with a value of € 12,000. The voucher is meant to cover expenses related to technical feasibility check, patent research, prototyping, testing, …

5 STEPS TO GET YOUR VOUCHER

On short-term partner meetings your application will be checked on eligibility and assessed.

Approved applications can start their cross-border activities immediately.

After you have provided the relevant documentation of your activity your payment will be reimbursed.