A good idea deserves
good money. A success story.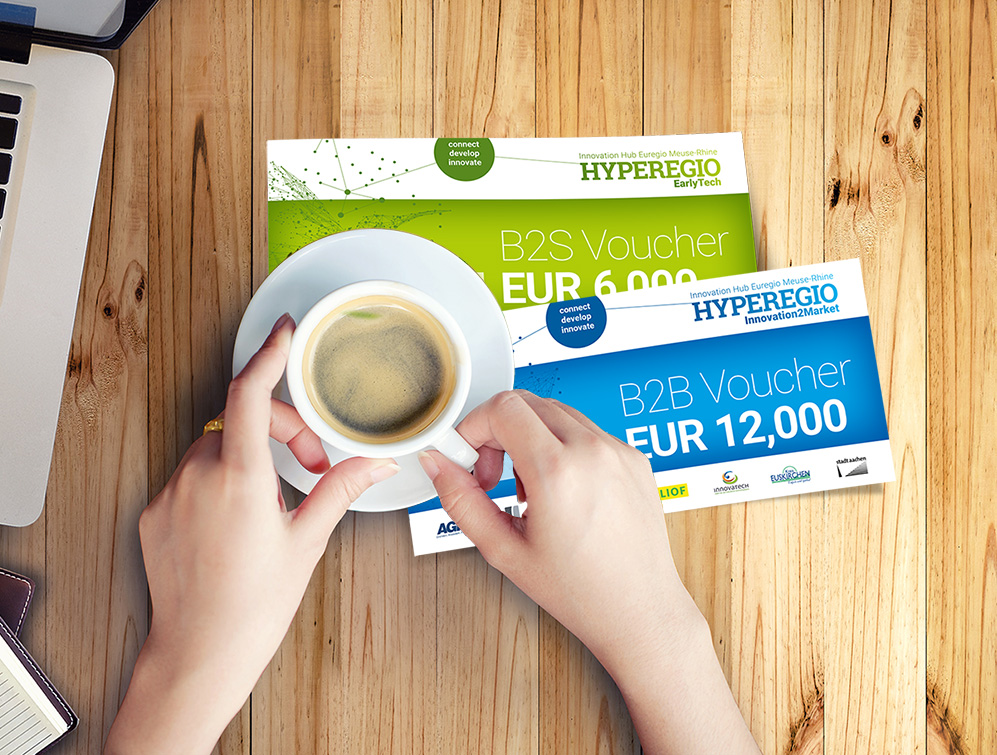 Vouchers as a stimulation tool for more cross-border cooperation were only provided within EarlyTech (B2S vouchers) and I2M (B2B vouchers). The voucher schemes were open for companies and research institutions supported or being part of all three projects.
THE B2S VOUCHERS
Ten B2S vouchers have been spent with an amount of 45,000 Euros. In total ten SMEs and nine different knowledge providers were involved and benefited!
These vouchers offered the unique opportunity to examine and to analyse the initial basis of your innovative ideas for projects, services or products together with an expe-rienced partner: A knowledge provider from a neighbouring region within the Greater EMR area. With the B2S Voucher cost of this initial study up to € 6,000 (€ 3,000 in early stage) could be covered.
YOUR B2B VOUCHERS
In I2M nine B2B vouchers have been spent with an amount of 84,000 Euros. In total 15 different SMEs and seven different knowledge providers were involved and benefited!
These vouchers offered interesting, simple funding opportunities for SMEs in the early stages of cross-border cooperation. If two SMEs from two different countries of Greater EMR area intended to cooperate with each other and a knowledge provider in an R&D activity / project (industrial research and experimental development), the Business¬2-Business (B2B) voucher provided valuable start-up assistance.
At least two technology-oriented SMEs, independent from each other and from two sides of the national border within HYPEREGIO created a cross-border R&D consortium, receiving support via a knowledge provider (institute / engineering business). After fulfilling all deliverables a "lump sum" of up to € 12,000 was paid to the Lead SME (€ 6,000 in early stage).
 You can find the summaries of the results in the projects here >>
These were the 5 STEPS to get a voucher

Get in contact with your regional antenna to pre-check the feasibility of your voucher activity.

Read guide for applicants and submit your application.

On short-term partner meetings your application will be checked on eligibility and assessed.

Approved applications can start their cross-border activities immediately.

After you have provided the relevant documentation of your activity your payment will be reimbursed.