Nov 20, 2018
Hospital of the future – eHealth & Wearables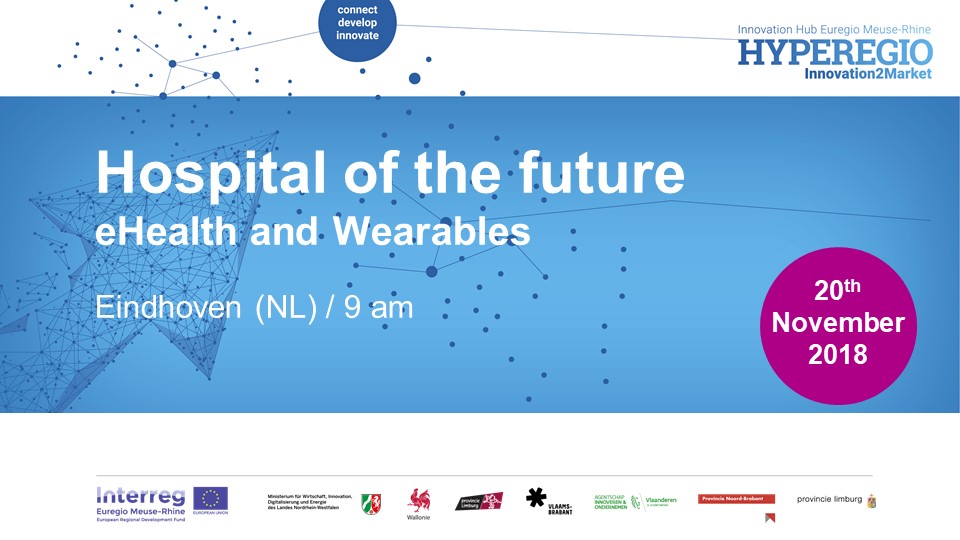 Location
TU Eindhoven, NL
In the framework of the HYPEREGIO projects BusyBee and Innovation2Market, the project consortium organizes a partnermatching event on the topics of eHealth and Wearables. During this event, the goal will be to showcase the research done by the universities in the Euregion Meuse-Rhin. Next to that the event aims to lift the crossborder cooperation in the euregion Meuse-Rhin on the topic of "Hospital of the future" to a higher level.
There where the focus will be on the link between hospitals and research before noon, the event will focus on industrial coorperation in the afternoon. For this afternoon session, there is still some room for pitches of interesting companies.
This event brings together 3 stakeholders in the innovation roadmap of healthcare institutions: the hospitals or caretakers, the research communities in the universities and knowledge institutes and finally the industrial partners, active in the Smart Health domain.
Program
09hr00 – Registration and welcome
09hr40 – Introduction BusyBee – Luc Renson, project coordinator
09hr55 – Service point Activity monitoring – Kenneth Meijer & Jos Aarts, University of Maastricht
10hr05 – Generation Superfit – Marieke van Beurden, TU Eindhoven
10hr15 – How to integrate the latest technology in new hospitals – Patrick Duflot, CHU de Liège
10hr35 – Coffee break
11hr05 – Technology offer by University of Leuven
11hr15 – WearIT4Health – Thijs Vanderyt, University of Hasselt
11hr25 – Technology offer by University of Liege
11hr35 – Experiences and ambitions after 4 years of Hart.volgers – Dr. Lucas Dekker, Catharina Ziekenhuis Eindhoven
12hr00 – Lunch and matchmaking
13hr30 – Introduction I2M & Voucher scheme
13hr40 – Company pitches:
Etheclo (B), Verhaert (B), Tenco-DDM (B), imec (B-NL), ICT (NL), Involve Ethics(NL), Constructing Connectivity, …
15hr00 – Wrap up
15hr15 – Matchmaking
16hr15 – Networking reception
17hr00 – End
Registration
Participation in the event is free of charge, but registration is mandatory.
Please use this registration form (DSP Valley).
We look forward to seeing you!
Your HYPEREGIO Partners
Contact:
Björn Van de Vondel
bjorn.vandevondel@dspvalley.com
Phone +32 16 24 14 42