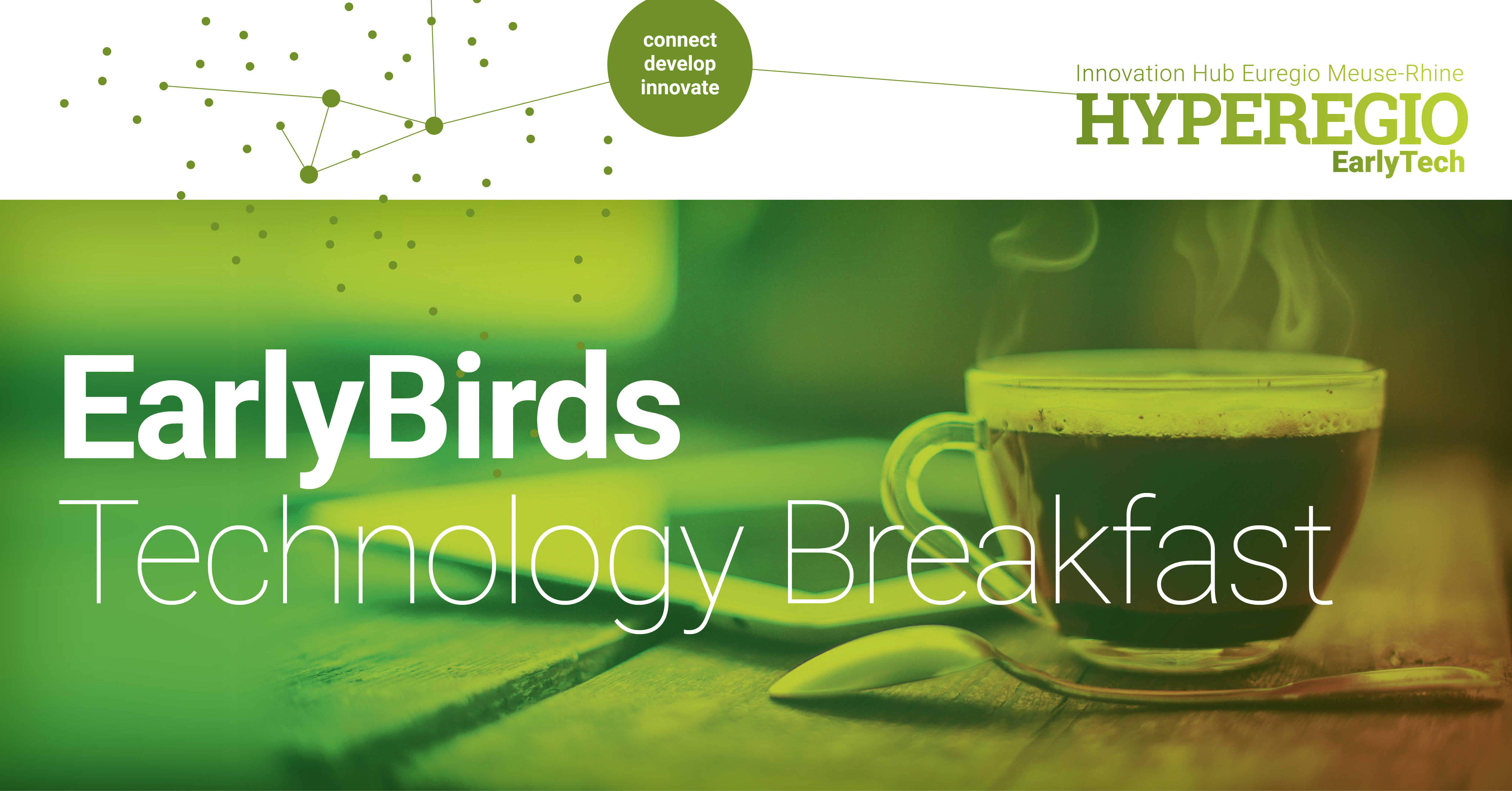 Unfortunately we have to reschedule the event because there are not enough participants registered at the moment. We will announce a new date here.
Do you own or operate a building?
Then learn more about how you can save
energy and reduce costs with the
award-winning Smart Data Application!
– Visit MeteoViva
– Receive new impulses from scientists and entrepreneurs
– Profit from new cross-border cooperations & get a grant of € 6,000
With the series of events "EarlyBirds Technology Breakfast" we invite you together with our partners of the euregional project "HYPEREGIO – EarlyTech" to discuss future topics at an early hour. We would like to inspire you to reflect and think outside the box and offer you a networking platform in a relaxed (breakfast) atmosphere with a host entrepreneur.
This time, the Jülich-based company MeteoViva gives us an insight behind the scenes.
Behind MeteoViva is the vision of Managing Director Markus Werner that the indoor climate of every building can be controlled in advance using a model.
In his analysis of energy-efficient building concepts, he discovered that heating, cooling and ventilation can be optimised in any building if a dynamically calculating calculation model is used that takes into account not only the weather, but also the use and physical behaviour of the building, including its system technology – the starting signal for the development of a key technology.
With MeteoViva Climate, the company offers a smart data solution patented throughout Europe that makes building technology smarter and more efficient without much effort – manufacturer-independent, cross-technology, forward-looking and intuitive to operate. MeteoViva Climate is used  throughout Europe in over 70 large buildings with approx. 1.5 million sqm and almost 13 million euro energy costs.
Take the opportunity to get a glimpse behind the scenes of the Company and meet entrepreneurs and scientists from the Euregio Meuse-Rhine.
PROGRAMME
(programme folder as pdf)
08.15 h Get-together at the breakfast buffet
"Vincents Palmengarten" (Technology Centre Jülich TZJ)
Welcome
Markus Werner, Managing director, MeteoViva GmbH
08.20 h Funding opportunities in the HYPEREGIO
Ralf P. Meyer, Department Head & Manager HYPEREGIO projects, AGIT mbH

08.30 h Increasing the indoor air-quality in offices, labs, workshops and clinics with a lower energy consumption
Harry Crijns, Managing director, Energy Controlling bv,  Malden (NL) 

08.50 h Smart data solutions for a perfect indoor climate
Markus Werner, Managing director, MeteoViva GmbH

09.10 h Breakfast buffet
Networking with entrepreneurs and scientists
09.45 h Guided tour
10.15 h End
We look forward to seeing you!
Your HYPEREGIO Partner
AGIT mbH
Contact:
Gaby Mahr-Urfels
g.mahr-urfels@hyperegio.eu
AGIT mbH