Mar 29, 2019
BUSINESS MEETS SCIENCE: WATER TREATMENT IN THE HYPEREGIO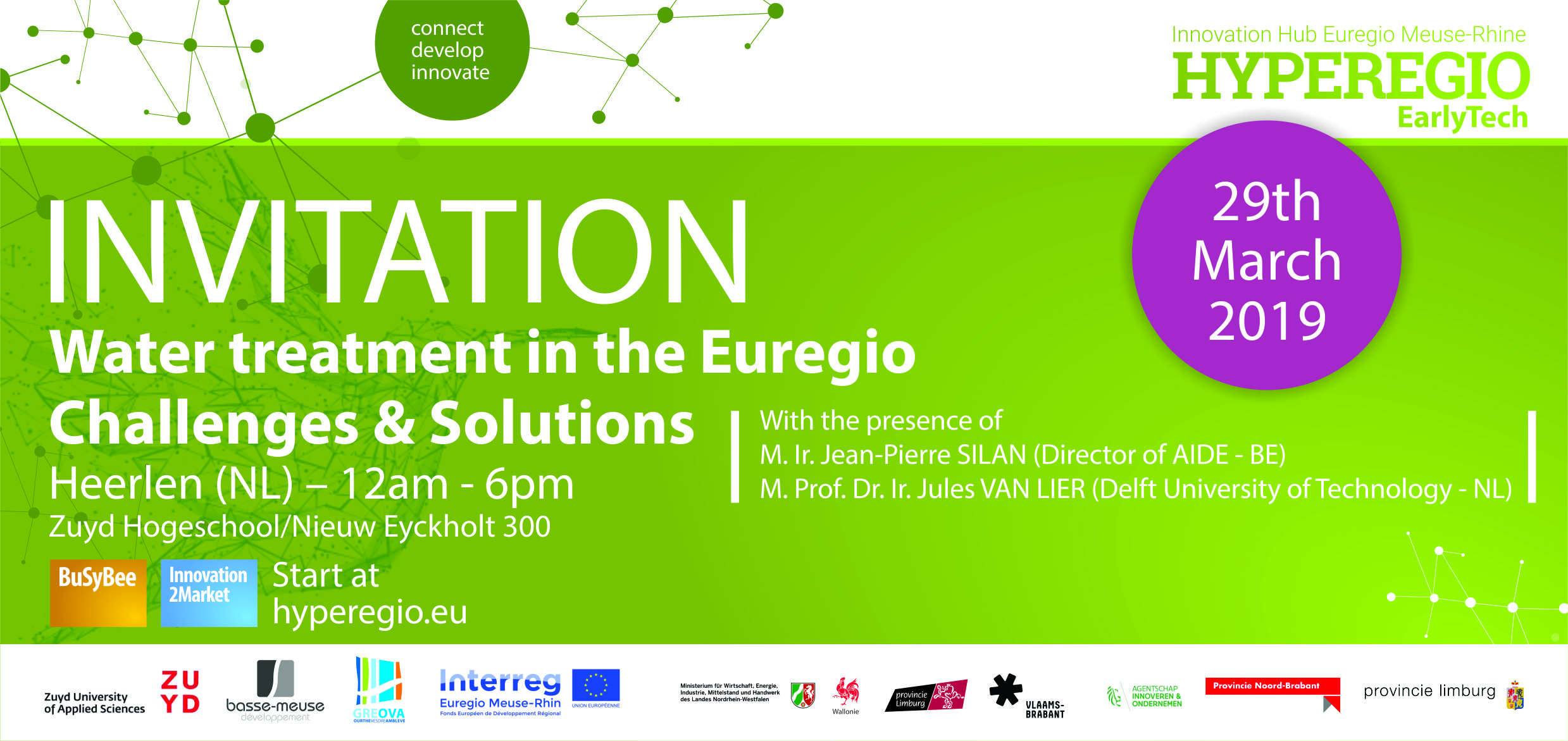 Water treatment processes face 21th century challenges
In Heerlen the 29th of March, take the opportunity to exchange your experience in energy & water saving, digitalization of processes and binding legislation for your water treatment solutions. 
In this framework, HYPEREGIO-EarlyTech project will help you to connect with professionals & researchers from the Euregio Meuse-Rhine and set up S2B cooperation.
Program:
12.00 Registration & Lunch
13.00 Keynotes:
Urban Waste Water Treatment: Needs, Trends and Challenges, Jean-Pierre Silan, Ir Directeur AIDE
Waste Water Treatment & Environmental Engineering, Prof. Dr. Ir. Jules van Lier, TU Delft
14.30 : 6 Company Pitches about
Digitalization, Monitoring
Water and Energy Saving in Processes, Second Life Water
Domestic and CE Regulations : how to adapt
15.30 : Break & Networking
16.00 : 3 Round Table discussions:

digitization, monitoring, & data analysis, innovative solutions (quality measurement, flooding, security, etc)
energy saving, re-use & second life of water
norms for re-use, capture/collection of micro-particles & recycling, de-phosphorization, …
17.00 Networking & closure
Address: Zuyd Hogeschool, Nieuw Eyckholt 300, 6419 Heerlen.
Free & mandatory registration :