Mar 26, 2019
B2B MATCHMAKING "SMART INDUSTRY: JOINING & WELDING"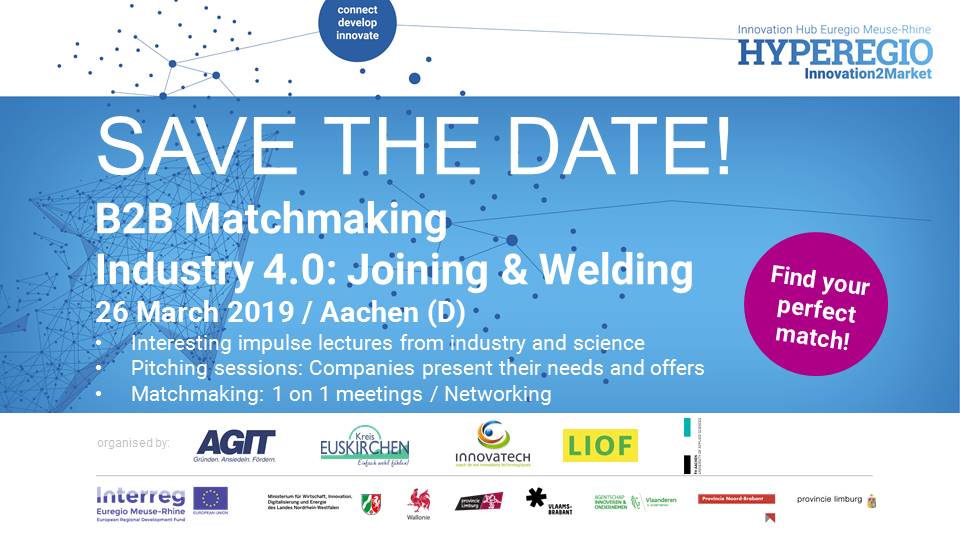 MAKE A NOTE OF THIS EVENT NOW!
Besides the keynote speeches, we organise brief pitches, where SMEs and knowledge providers present themselves, their ideas and what they are looking for. You will also get to know each other in one-on-one meetings to discuss your problem or solution in detail with companies across the borders.
Use this opportunity to find your perfect match!
The programme will be published soon.
If you would like to give a pitch or have any questions, please contact us:
Peter Gier (BDS Manager) – AGIT mbH, Aachen (D)
p.gier@hyperegio.eu
Michael Franssen (BDS Manager) – Kreis Euskirchen (D)
m.franssen@hyperegio.eu
Christelle Bar (BDS Manager) – InnovaTech, Liège (B)
c.bar@hyperegio.eu
Jorg van der Meij (BDS Manager) – LIOF, Maastricht (NL)
j.vandermeij@hyperegio.eu
Gaby Mahr-Urfels (Event organisation) – AGIT mbH
g.mahr-urfels@hyperegio.eu
---
*By registering for this event, you agree to the following: Inclusion of your details on participant lists, receipt of invitations to further events of the project partners, publication of photographs and film recordings. Your consent can be revoked at any time with effect for the future. Further information on data collection