Jan 24, 2019
Hospital of the Future – Imaging & Data Science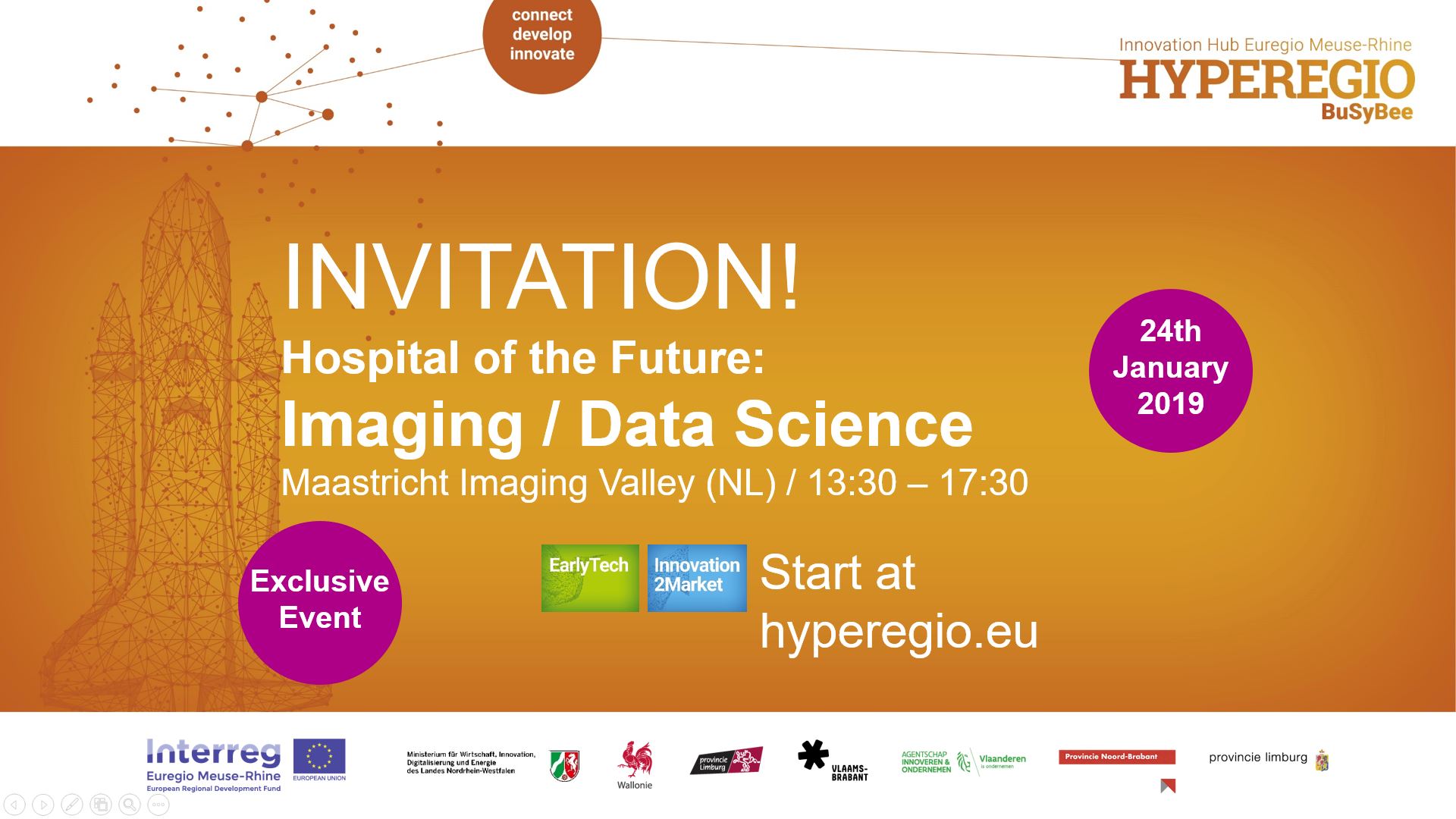 Location
Brightlands Maastricht Health Campus BV
In the framework of the HYPEREGIO project BusyBee, the project consortium organizes a partner-matching event on the topic of Imaging and Data. During this event, we will showcase the unique and state-of-the-art imaging facilities in MAASTRICHT IMAGING VALLEY. The event aims to lift the cross border cooperation in the euregion Meuse-Rhine from Business to Science and from Science to Business to a higher level.
Besides the keynote speeches, we organize brief pitches, where SMEs and knowledge providers present themselves, their ideas and what they are looking for. You will also get the possibility to visit the world-leading facilities of Scannexus and the Maastricht MultiModal Molecular Imaging Institute (M4I) located at the Brightlands Maastricht Health Campus.
In addition, there will also be time to meet and discuss your needs or solutions in detail with researchers and companies across the borders. Use this opportunity to find your perfect match!
Because of the visits to the facilities, the amount of registration is very limited, and we will work with a 'first come, first serve' principle, so sign up today for this unique and exclusive event!
Program
13:30     Registration / coffee
14:00   Opening on behalf of Maastricht Imaging Valley
Prof. Albert Scherpbier, Vice-President Maastricht University Medical    Centre+, dean Faculty of Health, Medicine and LifeSciences and CEO of Scannexus.
14:15     BusyBee and the utilisation of knowledge
Henri Theunissen, Chief Innovation Officer
Brightlands Maastricht Health Campus & Maastricht University
14:35    Functional MRI and the clinic: Imaging of tomorrow
Job van den Hurk, MRI data scientist at Scannexus
15:00    9 company / institution pitches, including Q&A.
BusyBee partners, research institutes and companies: Liège, Hasselt and Maastricht University, VITO, OSIMIS, RoboVision, CYTOMINE, OncoRadiomics and M4I.
16:15    Tour of the world-leading facilities of Scannexus and Maastricht MultiModal Molecular Imaging Institute (M4I). The tour will take place in small groups.
17:00     Network drink at Bandito Espresso, informal drink to mingle and match
Registration
Participation in the event is free of charge, but registration is mandatory.
Please use this registration form.
We look forward to seeing you!
Your HYPEREGIO Partners
Contact
Ivo George
Knowledge Consultant & Business Developer
Maastricht University
i.george@maastrichtuniversity.nl