Apr 11, 2019
EARLY BIRDS TECHNOLOGY BREAKFAST AT HEINEN AUTOMATION IN MONSCHAU (D)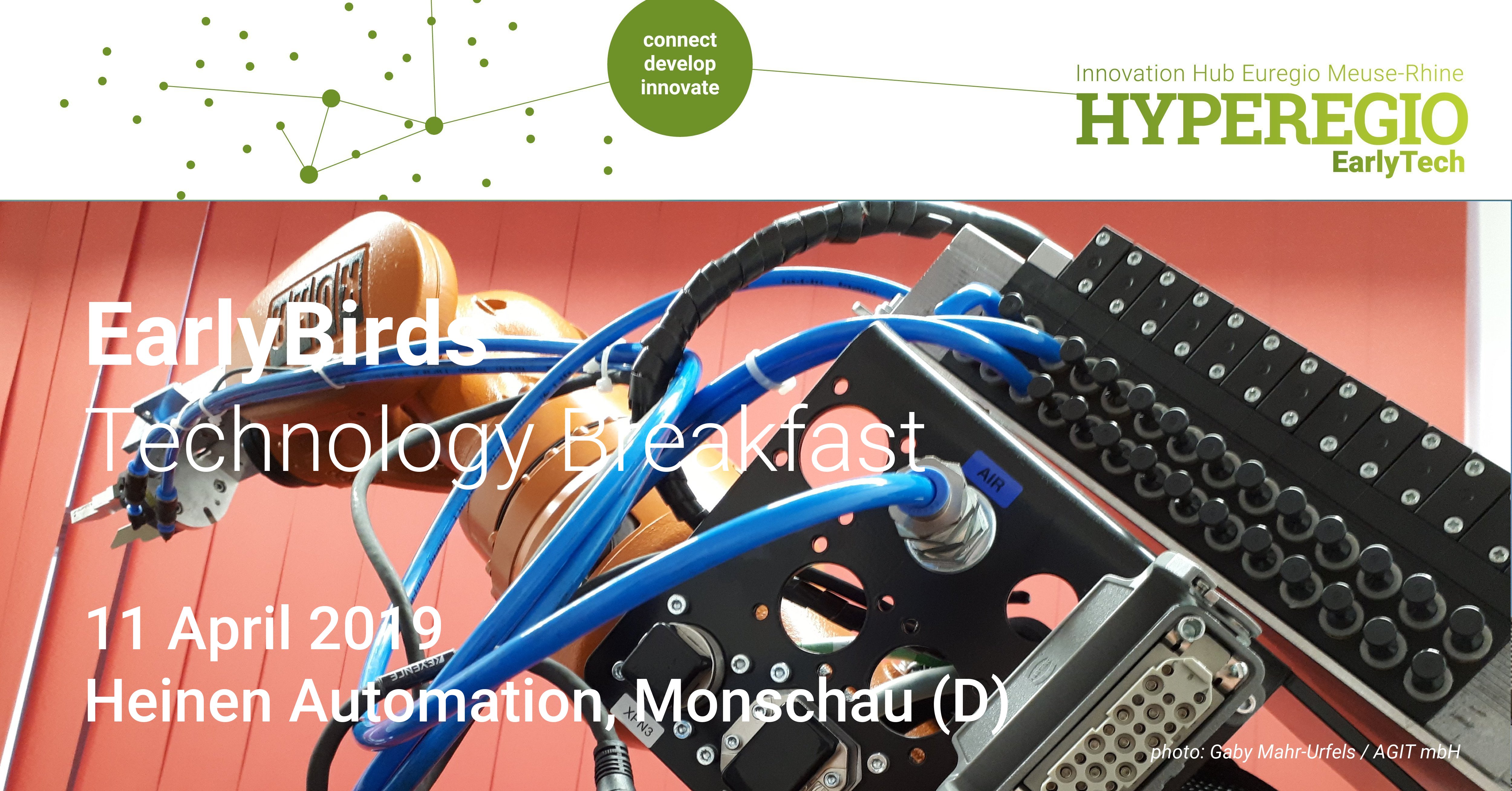 Location
Heinen Automation GmbH & Co. KG
Get up early
and think about tomorrow!
– Visit Heinen Automation
– Receive new impulses from scientists and entrepreneurs
– Profit from new cross-border cooperations
With the series of events "EarlyBirds Technology Breakfast" we invite you together with our partners of the euregional project "HYPEREGIO – EarlyTech" to discuss future topics at an early hour. We would like to inspire you to reflect and think outside the box and offer you a networking platform in a relaxed (breakfast) atmosphere with a host entrepreneur.
This time, the Monschau-based company Heinen Automation gives us an insight behind the scenes.
Heinen Automation has been successfully active in industrial automation for almost 20 years. The company develops software for customers all over the world at its headquarter in Monschau and at the development office on the campus of RWTH Aachen University.
The company's core competencies lie in automation technology and the manufacture of special machines. In addition to PLC programming and visualization, the field of activity includes electrical as well as mechanical design and manufacturing.
The extensive knowledge in robot programming and industrial image processing is frequently requested by the customers. Increasingly, high-level language programming and the connection of databases are finding their way into the world of automation technology – Heinen Automation is successfully implementing them.
The development of machine concepts, the creation of the associated CE conformity are just as much a part of the portfolio as the accompanying project management.
Take the opportunity to get a glimpse behind the scenes and meet entrepreneurs and scientists from the Euregio Meuse-Rhine.
PROGRAMME
08.15 h Get-together at the breakfast buffet
("Bistro Q-BUS" at the Innovationszentrum HIMO)
Welcome
Kurt Heinen, CEO, Heinen Automation
Funding opportunities in the HYPEREGIO
Ralf P. Meyer, Department Head & Manager HYPEREGIO projects, AGIT mbH

08.30 h IoT Security: Problems and Solutions
Dr. Apostolis Zarras, Assistant Professor in the Department of Data Science and Knowledge Engineering, Maastricht University

08.50 h Outline of high tech realizations at Heinen Automation – from robotics, industrial picture processing, 3-D print to artificial intelligence
Kurt Heinen, CEO, Heinen Automation

09.10 h Breakfast buffet
Networking with entrepreneurs and scientists
09.45 h Guided tour
10.15 h End
The breakfast takes place in the "Bistro Q-BUS" at the Innovationszentrum (HIMO).
REGISTRATION*
Participation is free of charge. The number of participants is limited. Please register by 4 April via the registration form below or with AGIT mbH, Doris Müller: d.mueller@agit.de
We look forward to seeing you!
Your HYPEREGIO Partner
AGIT mbH
Contact:
Gaby Mahr-Urfels
g.mahr-urfels@hyperegio.eu
AGIT mbH
*By registering for this event, you agree to the following: Inclusion of your details on participant lists, providing contact information to other participants before and after the event, receipt of invitations to further events of the project partners, publication of photographs and film recordings. Your consent can be revoked at any time with effect for the future. Further information on data collection
Bookings
Bookings are closed for this event.