Feb 20, 2019
B2B BROKERAGE WORKSHOP "E-MOBILITY MEETS LIGHTWEIGHT"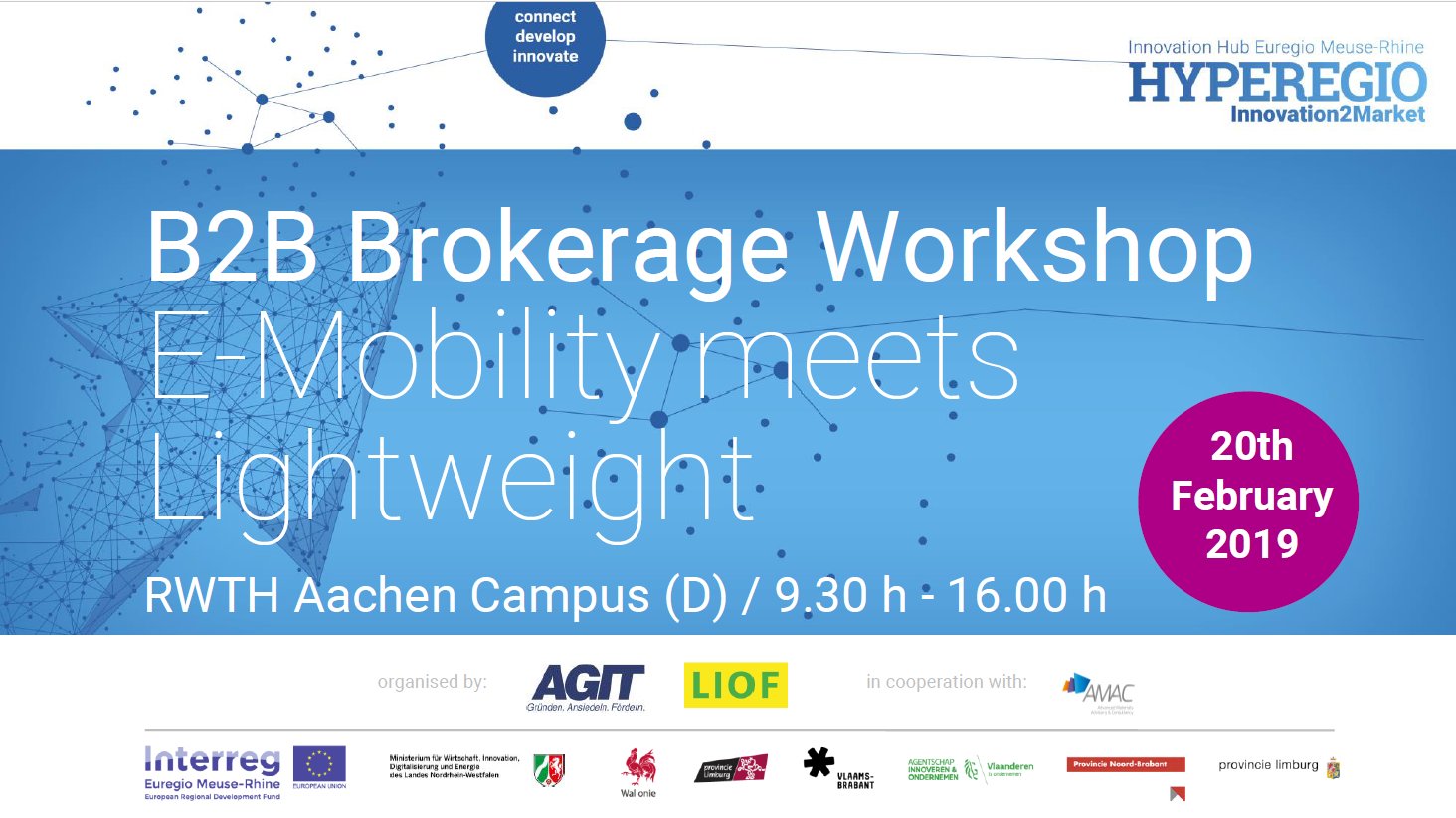 Location
AZL GmbH at the RWTH Aachen Campus
The growing impact of lightweight materials and design in the automotive industry is undisputed. Global trends go towards resource efficiency and environmental friendliness. Material savings, reduced fuel consumption and CO2 emissions are key to success.
At our event, you will get to know entrepreneurs, SMEs and institutes in our cross-border HYPEREGIO, the traditional home of the RWTH Aachen University and its clusters for lightweight and production technologies or more recently, e.GO and StreetScooter.
We support you in finding your right cooperation partner for your projects in this dynamic and future-oriented market. We are looking at the complete value chain, from the raw material producer to OEMs and services. Keynote speeches inform about market trends, future orientations, speed dating and matchmaking services allow to work on your synergies.
PROGRAMME (pdf download, 3 MB)

09.30 h   Registration
10.00 h   Welcome and funding opportunities in the HYPEREGIO
Ralf P. Meyer, AGIT mbH
Dr. Michael Effing, CEO, AMAC GmbH
10.15 h   Lightweight Design of Electrified and Automated Vehicles
Dr. Kristian Seidel, Department Manager Body, fka GmbH / ika RWTH Aachen University

10.40 h   E-Mobility – From Engineering to Production
Dr. Georg Bergweiler, Chief Engineer, PEM – Production Engineering of e-Mobility Components, RWTH Aachen University (e.g. for clients such as e.GO and StreetScooter)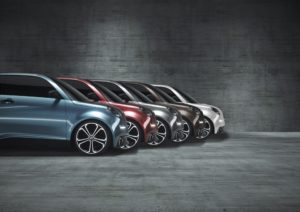 11.05 h   Automotive Lightweight Vehicle 2025
Jan Stroobants, Senior Research Engineer,  EU funded cross-border project by INTERREG Euregio Meuse-Rhine, Flanders Make, Lommel (B)

11.30 h   Coffee break
11.50 h   Lightweight meets e-mobility – Trends in the material systems
Marc Huisman, Program Manager Lightweight Automotive, Brightlands Materials Center, Geleen (NL)
12.20 h   Lunch
13.00 h   Speed Dating – Company presentations for matchmaking:
• AZL GmbH, Aachen (D): "Research and industry are working shoulder to Zhoulder in lightweight Technology"
• Code PS, Heerlen (NL)
• CMP GmbH, Heinsberg (D): "Fast curing prepregs for lightweight composite structures in automotive industry"
• Compoform, Beek (NL): "Stop the raindance!"
• Conbility, Aachen (D): "Conbility, a spin-off of the RWTH Aachen offering services for the future of e-mobility"
• Green Propulsion, Liège (B): "GreenPropulsion: Innovative lightweight hybrid configurations, further than classical series and parallel hybrids"
• Impetus Plastics Engineering, Aachen (D)
• M.TEC, Herzogenrath (D)
• Ph-Mechanik GmbH & Co. KG, Aachen (D): "ESCAPE-CHAIR in motion? – Smartification of an evacuation chair"
13.45 h   Matchmaking workshop in small groups
14.45 h   Report-out and next steps
15.15 h   – facultative –
Tour (1 h) of AZL Center of Lightweight Production and PEM Ramp-up factory for E-Mobility
Dr. Georg Bergweiler and Dr. Michael Effing

VENUE
AZL GmbH at the RWTH Aachen Campus
Building Part 3B, 4th Floor
Campus-Boulevard 30
52072 Aachen, Germany
---
REGISTER* here:
The participation is free of charge, but registration is mandatory. Register by sending an email to:
amac-communications@effing-aachen.de (Mrs. Mona Ziegler)
We look forward to welcoming you!
Your HYPEREGIO Partners
AGIT mbH and LIOF
in cooperation with AMAC GmbH

Contact:
Peter Gier
p.gier@hyperegio.eu
AGIT mbH
Dr. Michael Effing
amac@effing-aachen.de
AMAC Advanced Materials Advisory & Consultancy
---
*By registering for this event, you agree to the following: Inclusion of your details on participant lists, receipt of invitations to further events of the project partners, publication of photographs and film recordings. Your consent can be revoked at any time with effect for the future. Further information on data collection