Jan 31, 2019
B2B BROKERAGE WORKSHOP SMART GLASSES: TECHNOLOGY & APPLICATIONS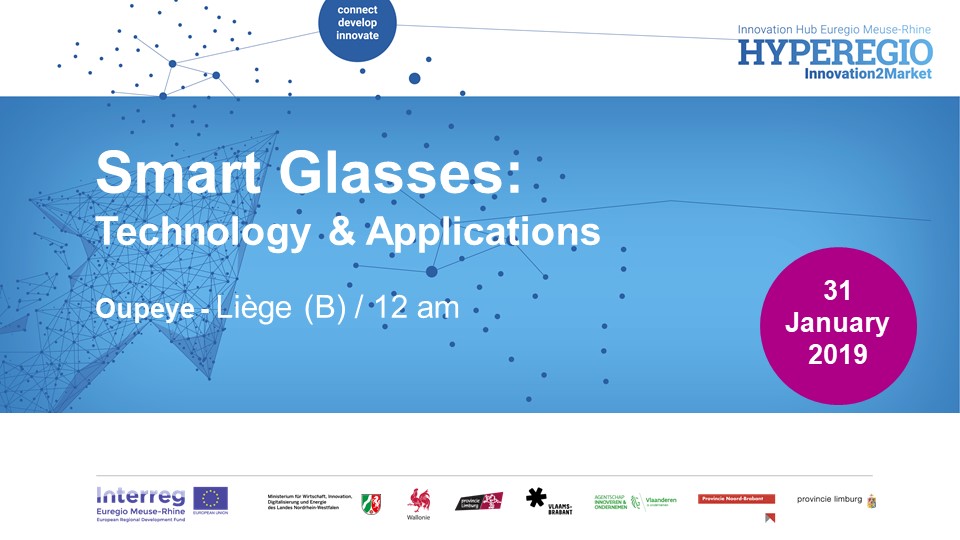 Location
AIDE
The HYPEREGIO project consortium kindly invites you for our brokerage event on Smart Glasses. New technologies find their way into daily life applications. Nowadays we see an uprise of applications making use of Virtual or Augmented Reality. Smart glasses are an important enabler for this last technology of Augmented Reality.
During our brokerage event we will elaborate on the posibilities of augmented reality and the potential of using Smart Glasses. To clearly identify and focus on the applications, the focus will be on the domains of
– healthcare
– logistics
– industry & maintenance.
The goal of the workshop is to see how smart glasses are used today, to act as a source of inspiration for others. Next to that we will to take a look into the future and try to imagine what this technology has in store.
Program
12hr00 – Registration and Fingerfood
13hr00 – Keynote presentation by Oculavis
13hr25 – Keynote presentation by Flanders Make
13hr50 – Keynote presentation by Picavi
14hr15 – HYPEREGIO, funding possibilities
14hr30 – Break
14hr50 – Pitches:

Hemiglass
Psylaris
Hopital Andre Renard
Phasya
Iristick
B71
Ayming Tools

15hr45 – Round table discussions (Health, Logistics, Manufacturing and Maintenance)
16hr30 – Matchmaking
17hr30 – Networking
Participation is free, but registration is mandatory.
Please use this registration form